Major Web browsers like Microsoft, Google and Mozilla are increasingly pushing for DNS over HTTPS (DoH). This technology improves the online privacy and security.
What is DNS over HTTPS (DoH)
Basically, DNS over HTTPS is an extra layer over DNS for privacy and security. Presently we find that some of the modern web browsers are raising an alert if any sites uses HTTP by showing "Not Secure". Also some of them are including the encryption as in-built, this ensures that if anybody is viewing or snooping on the activity done online. The same cannot be tampered as the content is visible but cannot interfere. DNS is over 3 decade old, it connects to the website via the domain name by using numerical IP addresses. With the introduction of "DoH" resolver in the HTTPS, which uses encryption, prevents unauthorized snooping or access, making it quite secure.
Also read How to find mixed content pages on your website
All the users are connected to their Internet Service Provider by DNS. There are some independent or third party DNS servers, Cloudflare Public DNS and Open DNS, who are among the pioneers to enable DNS over HTTPS. The requirement is to have a DNS and a client which supports it.
Google Chrome and Mozilla Fox are testing the DOH presently, however Microsoft has announced that it would be adopting DNS over HTTPS soon, which will ensure that all Windows network will be benefited, Apple has not yet made any announcement.
We are making plans to adopt DNS over HTTPS (or DoH) in the Windows DNS client. As a platform, Windows Core Networking seeks to enable users to use whatever protocols they need, so we're open to having other options such as DNS over TLS (DoT) in the future. (Source: Microsoft Blog)
In future the DNS over HTTPS (DOH) will work with different web servers in different ways. For example, when DOH goes live on Chrome, it will use DOH only if the system's current DNS server supports it. In case Comcast is your ISP and they refuse to support DOH, then Chrome will work as it does presently without encryption. In case of Cloudflare DNS, Google Public DNS or Open DNS they are going supported by DoH, in these cases Chrome will use encryption to talk to your DNS server. While upgrading the connection, this will give the users an option to do away with the web server who are not offering the DoH like Comcast.
How does DNS over HTTPS Work
By default, an DNS server that supports DNS over TLS should accept TCP connect on port 853, otherwise both the clients and servers need to be configured. Also this cannot be done with port 53 to avoid complication, they must not send clear text DNS messages on any port used for DNS over TLS.
After the success of connecting thru TCP on the port for DNS over TLS it will proceed towards the handshake. It is now that the client will authenticate the server, which is now encrypted and will be secured from eavesdropping.
All the requests and responses in an established TLS session should be in two-octet length field and the DNS clients and server should pass the two-octet length test to successfully pass. To reduce the latency, the number of queries in a session be multiple and not to wait for an outstanding answer to the pending query before sending the next query.
In case of Firefox, Mozilla will support Cloudflare as the encrypted DNS provider in the USA. According to Microsoft DoH will work in Windows 10, as Windows 10 will obey your default DNS server, will enable DoH if your server of choice supports it.
Also read: Everything you need to know about TLS 1.3
How to enable DNS over HTTPS in Chrome
As per Google, they are simply enabling support in Chrome for secure DoH connections if a user's DNS provider of choice offers it. Chrome will check if the user's DNS provider is among a list of participating DoH-compatible providers and if so, it will enable DoH automatically. If the DNS provider is not on the list, Chrome won't enable DoH and will continue to operate as it does today. As DoH adoption increases, we expect to see the number of DoH-enabled DNS providers grow.
How to enable DNS over HTTPS in Firefox
Go to Tools menu and click on Options
Scroll down to Network Setting and click on Setting button
Then click on "Enable DNS over HTTPS" and keep the default from the dropdown menu.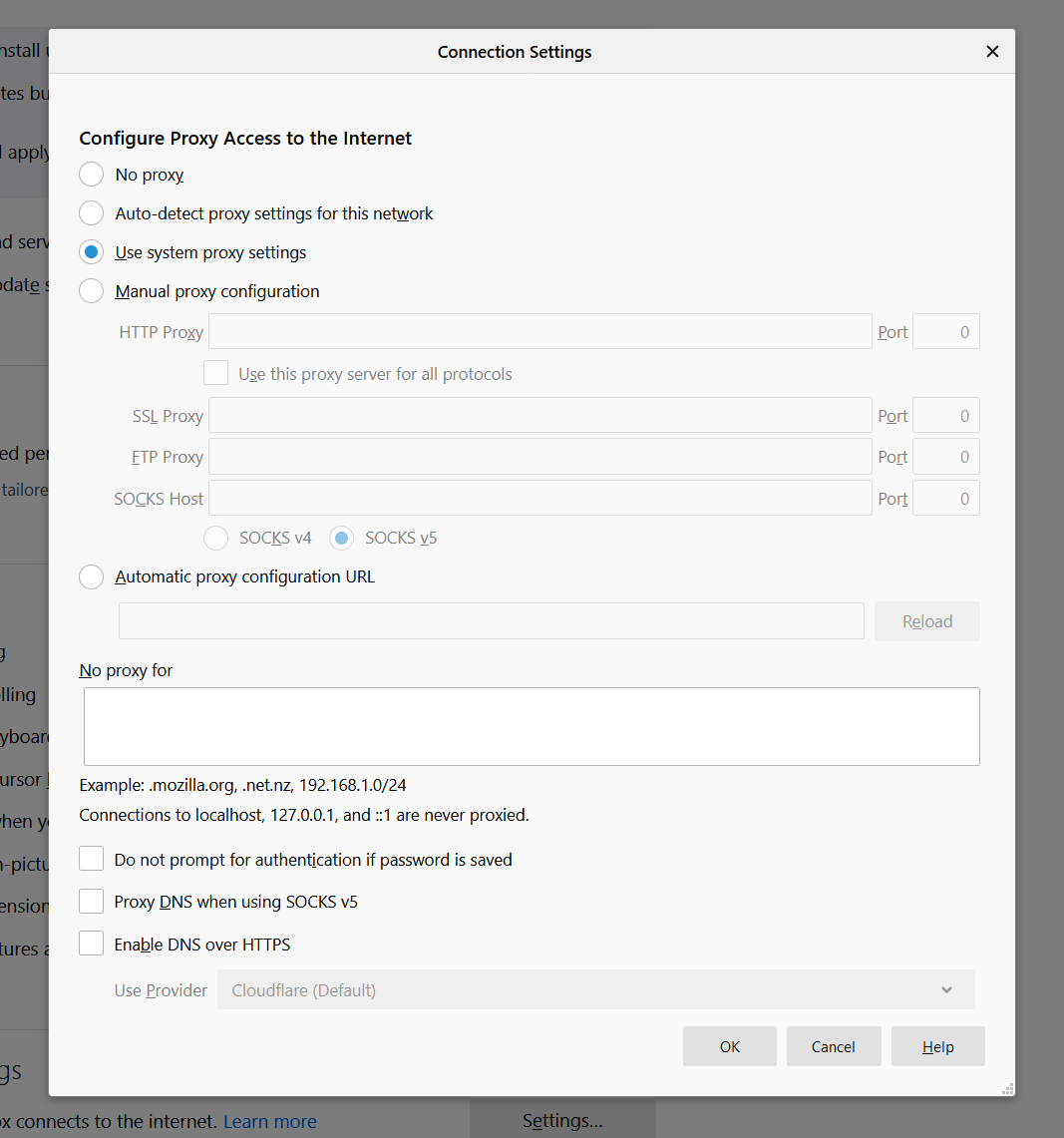 Future of DNS over HTTPS
OS support
In November 2019, Microsoft announced that it has plans to implement support for encrypted DNS protocols in Microsoft Windows, starting with DoH.
Clients which support DoH
1. AdGuard for Android
2. AdGuard for iOS and AdGuard Home
3. Cloudflare 1.1.1.1 client app for Android and iOS
4. Cloudflare resolver for Linux
5. MacOS and Windows
6. cURL since 7.62.0
7. DNSCrypt-proxy— Local DNS → DNS over HTTPS proxy
8. DNSP — Versatile DNSProxy. DoH server (C) and client (PHP) implementation,  doh-php-client — PHP Implementation
9. Firefox since Version 62 and later — Browser support
10. go-doh-proxy — Go DoH Proxy Server
11. Intra — Android app by Jigsaw, nss-tls — a DoH-based resolver plugin for glibc,  Technitium DNS Client — C# .NET cross-platform implementation,
12. NextDNS client apps
13. Nebulo – DNS over HTTPS/TLS – for Android, personalDNSfilter – DNS filter with support for DoH and DoT for Java enabled devices including Android.
Get complete list from GitHub
It is generally accepted that DoH is work in progress, in spite the fact that IETF has widely distributed RFC 8484 as a proposed standard and there is testing going on and being viewed as how it tends to be actualized. IETF is additionally considering different alternatives with respect to how DoH the most ideal approach to send DoH by setting up a working gathering. There are other working gatherings like DNS Deployment Initiative are additionally framed to "characterize and embrace DNS encryption advances as it were which guarantees the proceeded with elite flexibility, solidness and security of the web's basic namespace and name resolution services likewise guarantee the proceeded with unimpaired functionality of security protections, parental controls and different administrations which rely upon DNS".
In any case, among the issues which are being settled, not restricting it to Parental controls and substance channels, Split DNS in Enterprises and CDN Localization.