April 20th, 2017
No Comments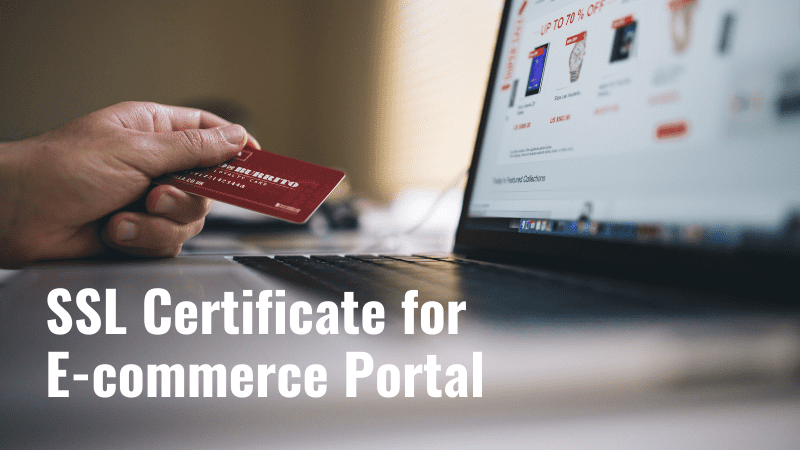 The phenomenon of online shopping has been spreading across the globe with a growing number of organizations putting their wares on sale online. Online shopping is one avenue that is convenient for the shopper and cost effective for the manufacturer. While the medium is effective, it is also vulnerable to data theft and online attacks. hence the necessity for SSL certificate for e-Commerce portal,to  protect customer data and win their trust. The discussions around making SSL compulsory for e-Commerce has been growing every day and sooner or later online shops will have to comply with SSL validations. Search giants like Google have been actively endorsing SSL validation and have started tagging HTTP websites as "unsecured" since the beginning of 2017. To stay relevant and competitive in a tough market it is important to get an SSL certificate.
If you do not store any financial information you may not need an SSL certificate, however this is unheard of in the e-Commerce arena. Every online shop either stores or needs sensitive data to process payments; this makes SSL an absolute necessity for online stores. Here is a list of things that may negatively affect you if you are an online store and do not have an SSL validation (or is still an HTTP website):
Why SSL certificate for e-Commerce portal
• Online customers may lose trust in you because chrome tags you as "unsecured" for sensitive data
• Your online search ranking may fall thus leading to drop in online traffic and stuck inventory
• It means you do not have data encryption and attackers can steal or divert information from your website
• Anti-online entities may "spoof" your store because there is no registration of you being the real owner of the domain or manufacturer of the good and services sold on your website
• You are a sitting duck for an attacker who may simple include a code in your website to divert customer's email address, social media information, or other online account for malicious activities
• The lack of SSL makes you vulnerable to theft of personal or financial data stored on your server
• In an event that your website is under attack, there can be public and or potential financial backlash
SSL stands for Secure Sockets Layer, and is the industry standard when it comes to safe and secure online transactions between websites and users. The PCI DSS makes it mandatory for online shopping websites to have a SSL certification. PCI DSS stands for Payment Card Industry Data Security Standard that makes websites that process, store or transmit credit card information maintain a secure environment.
Depending on the business you can decide on the level of validation you require. There are three types – Domain validation (this covers encryption only), Organizational validation (a bit costlier than domain validation but includes Authentication in its coverage), and finally Extended Validation ( an EV  SSL certificate for e-Commerce portal is a must for Banks and eCommerce businesses). Similarly, depending on the complexity of the website you can decide on the type of certification you need. A simple Single-name SSL certificate will enable you to provide encryption and validation for users and cover one domain or server. A single SSL Wildcard Certificate can secure all related (unlimited number of) first-level subdomains of the principal domain, thus eliminating the need of buying an SSL certification for each of them. The more complex and vast certification is the SAN certificates (also called UC or multi-domain certificates) that uses Subject Alternative Names to secure a certain number of domains, sites, and subdomains with one certificate.
To get a free trial certificate for your e-Commerce portal, kindly visit https.in