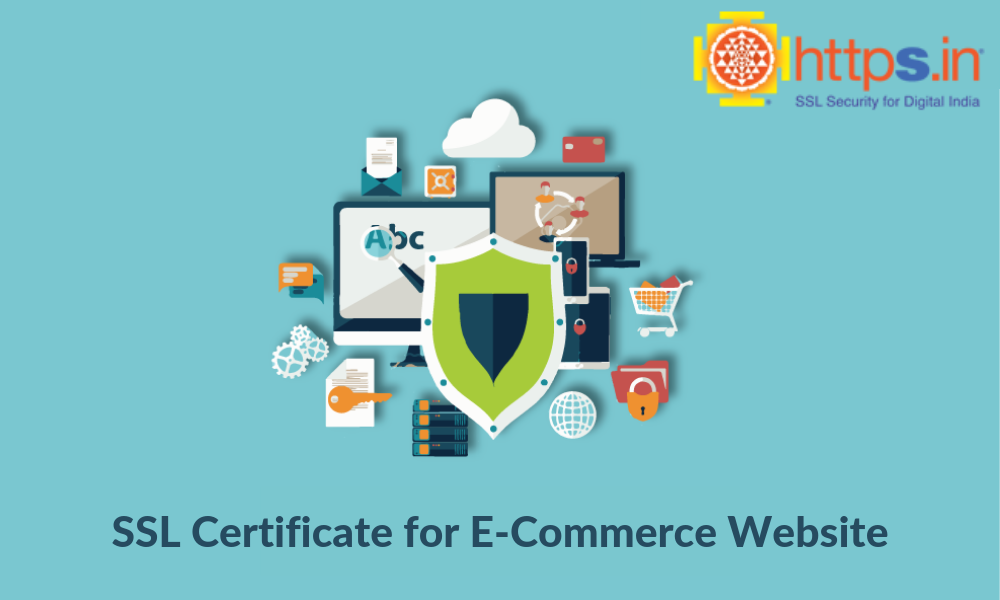 An e-commerce website is very different from the static website as customers are required to make an online payment on the website. Hence an E-Commerce website needs stronger security to protect from any attacks.
In this article, you will learn why should E-commerce site have SSL Certificate and which SSL Certificate is best for E-Commerce Website.
PRIMARY CONCERNS FOR E-COMMERCE WEBSITES
The success of your e-commerce start-up depends on various important factors. SSL is one of the most prominent factors out of these. The websites using SSL certificates are usually the sites which require their end users to provide sensitive information like credit/debit card passwords, personal data, etc. There are two primary reasons why an e-commerce website must invest in an SSL certificate. One of the factors which help in deriving your SEO/Google rankings:
Security of information: No one in this entire world, would like to put his/her sensitive information at risk. It is much obvious; anyone would take a concern about the safety of personal data while providing such sensitive information through online gateways. There could be devastating outcomes if such a piece of sensitive information is compromised. It is the responsibility of the merchant to provide a completely safe environment for the customers.
Trust enhancement: SSL certificate for an e-commerce website is important from the customer's trust point of view. Online security has always been an issue for users. Theft of sensitive or personal data through online mode is everyday stuff nowadays. That's why users are now more cautious towards the security of environment/website in which they are transacting. SSL certification is like a trust seal which injects confidence among users.
WHY DOES E-COMMERCE WEBSITES NEED SSL CERTIFICATE?
As E-commerce websites deal with credit card details, payment gateway, login forms which can be hacked for which it needs to be encrypted or secured. Hence SSL Certificate encrypts the data in transit and help in securing important data from being hacked. Below are the points which emphasize on why e-commerce websites need an SSL Certificate:
Credit card information:  There are numerous websites which ask customers to provide credit/debit card passwords during the checkout process. In these scenarios, it is the responsibility of e-commerce website owner to make the online transaction error free & secure. An SSL encryption ensures a secure transaction between the web server & web page. The keys required to decrypt the information is known only to the web server & web page and hence makes it impossible for any third person to hijack the information.
3rd party payment gateway:  In case you use a 3rd party payment platforms like PayPal, you won't directly need an SSL encryption, but it does act as a trust seal. Please make sure that the green address bar or "HTTPS" is visible to the users when he/she is forwarded to the payment gateway.
Login forms:  Impersonation of any user can be avoided by the websites asking for login forms (usernames & passwords) with the help of an SSL encryption. If you are concerned with your investment budgets, a cheap SSL certificate with login forms would work efficiently.
Shopping ads:  Generate business for your e-commerce website by posting shopping adds on google. But there's a condition here, Secure your website's payment checkout with the SSL encryption.
Why do you need an EV SSL Certificate for E-Commerce Website?

Extended Validation (EV) SSL Certificate provides a high level of safety & security to the e-commerce website. It also provides a green address bar with a proper business name, which is validated through a very thorough verification process. EV SSL Certificate in e-commerce website builds good consumer trust along with huge profits. Go through the points which will tell you the importance of  EV SSL Certificate for an e-commerce website.
Extended Validation (EV) SSL Certificate is the highest level of assurance Certificate.
Extended Validation (EV) certificates use the highest level of authentication as it is issued through a thorough verification process.
They incorporate some of the strictest standards for identity assurance to establish the legitimacy of online entities.
Get a green bar as the sign of ultimate trust on the internet with a positive signal in all web browsers.
Get your business name in the browsers address bar, reinforcing customer confidence in your brand.
Great data privacy with up to 256-bit encryption for all purchases.
Increase sales dramatically and generate a great return on your EV SSL cert investment.
Helps in improving your Google SEO rankings.
Extended Validation SSL certificates are every online seller's best friend. A benefit with an improved ranking signal in Google search and a host of other value-added features which put your e-commerce business in the winning league.
EV SSL Certificate: Best SSL Certificate for E-Commerce Website
The suggested list of SSL Certificate for E-Commerce Website


Also, you can visit our EV SSL Certificate page to buy the best SSL for an e-commerce website with various brands to choose from.