Why SSL?
SSL certificate is used to protect your sensitive information (credit/debit cards passwords, Medical information, bank account numbers etc.) from hackers and smart thieves
SSL certificate enhances security of your website, hence increases trust among visitors
It is also required for PCI compliance
Also, helps in improving SEO (Google) rankings
How do we come to know that a site is SSL certified?
There are various indicators which tell visitors that a site has been SSL/TLS certified. Visual indicators are mentioned as below:
HTTPS instead of HTTP
A Padlock
A Trust seal
A green bar (For Extended validation certificate only)
Actually, the Internet users are now learning to pick up on these indicators, so when they see these visual indicators, they assume the site as trustworthy. Having an SSL sign is important nowadays as it signifies a number of important factors to your site visitors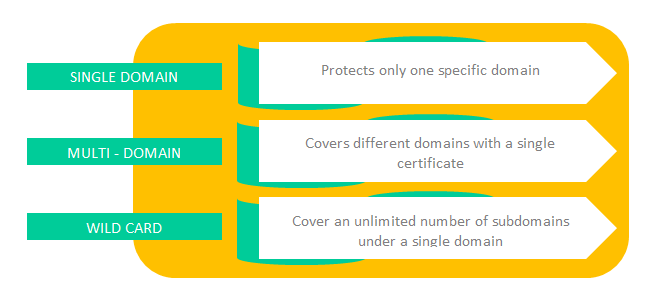 Fig: SSL Types on the basis of domains required to encrypt
The above figure illustrates basic classification of SSL certificates on the basis of the number of domains required to encrypt (Secure). SSL/TLS certificate covers one or more domain name as per requirement.
Looking for PCI compliance approval?
If you are running an organization that accepts, processes or stores credit card information, then it must abide by the security standards set by the Payment card industry Data security standard (PCI DSS). Hence SSL/TLS certification is one of the mandatory requirements if your organization in any way or form deals with the card information.
SEO Rankings
Google is a strong advocate for internet safety. Therefore SSL certified websites are preferred in their search rankings. This must have only a slight effect on the search rankings, but it's an easy advantage to take hold of if your competitors don't have it.
How to become SSL certified?
Due to the differing ways a browser treats the different certificate sources, it is important to choose an exact method and appropriate certificate provider for SSL certification requirements. The certificate provider plays an important role during the purchase of an SSL certificate.
Your simple solution with https.in
A lot of SSL certificate provider are available in Mumbai, but choosing one of them could be a brain-freezing task. Well! We have the solution here for you. We tell you why one should choose https.in for their SSL certificate requirements. There are few highlights which definitely will drive your senses towards https.in:
It has successfully built a huge practice of SSL, PKI, two-factor authentication network and cyber security disciplines
Provides 24/7 support. The Norton secured seal & Symantec seal-in search assure your customers that they are safe to work in the online environment
Reduces the cost and complexity of managing digital certificates with Symantec managed PKI or SSL
Availability of SSL resources – This guides you through the entire certificate lifecycle management process. Apart from this, a "Beginner's guide to SSL certificates" is also available
It entails 30 Day Money – Back Guarantee
Enterprise-friendly
Platinum support
Best price guarantee